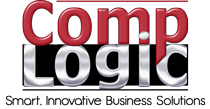 Establish Effective Online Presence With a Website That Sells!
Many businesses have ineffective websites. We can help you design a site that increases your online visibility and helps you position your company for success. The majority of your customers will visit your site before they decide to do business with you. CompLogic can help you create a site that will be compatible with any mobile, laptop or desktop device.

If you are selling products online and require a shopping cart, we can help you develop a fully integrated e-commerce site that takes customer orders for you 24/7.

We Make Websites Uncomplicated
Many people believe that creating a website is rocket science. It shouldn't have to be. In fact, we make the entire website development process simple and straightforward for you.

If you know what you want: Excellent. Give us your concept and content and we will transform it into a visually appealing site that promotes your business. This is the most economical and clear-cut option.

If you don't know what you want: No problem. Our designers will guide you through the process and create several customized concepts for you to choose from. You only pay for the one you like.

Website registration: If you already have a domain, we can host your website on our servers (see below). If you don't have a domain name, we can help you register one quickly and easily.

Hassle-free, reliable hosting: We provide website hosting to our clients so you do not need to look for a third party hosting provider. This saves you time and money, as well as makes website management more convenient.

Easy site updating and scalability: We provide access to a convenient content-management system through a self service interface. Or, you can email us content updates and we will make them for you at a nominal fee. You can also add optional features and components to your site as your business grows.

Website marketing and promotion: We can optimize your site for search engines (SEO) to help you drive more traffic in a crowded cyberspace. Our SEO services are cost-effective and do not require monthly commitments.

Websites for Every Budget
Whether you are looking for a simple 1-2 page format or a sophisticated and content-rich presentation, CompLogic can create a site that meets your needs and fits your budget. Our website prices range from $200 to $8,000 depending on project complexity. Obviously, the less "bells and whistles" you want, the lower the cost. Websites in the lower price range are recommended for businesses that want to have a basic web presence and do not require such options as e-commerce, databases, slideshows, etc. Websites in the higher price range are ideal for businesses that desire a comprehensive suite of advanced web features.

Doesn't your business deserve a website that works? CompLogic can provide you with a no-obligation consultation to assess your website needs. Call us at (941) 882-1420 to discuss your specific preferences and expectations.


CompLogic can help you develop effective online presence with an array of website design options. Let us help you create a website that works for your business.