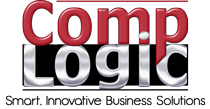 We'll Take Care of Your Technology Needs, so You Can
Focus on Building Your Business!
Nearly every aspect of your business relies on technology. It is our mission to provide you with user-friendly hardware, software and maintenance solutions that maximize your productivity, save you money, and help your business to thrive. We'll take the weight off your shoulders. Whether your company needs phone systems, email solutions, remote access, or comprehensive virtualized solutions, we've got you covered.

HERE ARE THE CORE BUSINESS SOLUTIONS WE OFFER:
Managed IT Services
We take the complexity and costliness out of managing and maintaining your technology environment. You can significantly reduce unpredictable performance and reliability issues – such as risk of unscheduled downtime, system crashes, or other technical bugs – that could extremely disrupt your workflow. Let CompLogic oversee your business-critical systems through our comprehensive external IT management options.

Services include:


Rollover Block Hour Service Contracts

Remote Monitoring and Management


Managed / Hosted Desktops


Managed Exchange Services


Managed Antivirus (billed monthly, quarterly, yearly)


Managed Offsite Backups


Servers / Workstations, New & Off Lease (with three year warranty)


Surveillance Systems


Website SEO Services


Web / Email Hosting


Telecommunication Cost Reduction / VOIP Services

We will ensure a stable, reliable and robust IT environment – reducing risk, increasing efficiency. We can offer tremendous value and cost savings to your business in contrast to a traditional "break-fix" approach. Our highly skilled team will simplify your IT operations and reduce your expenditures by providing software applications and systems as a completely externally managed service. This means predictable monthly costs, access to top-line technology – enabling you to focus on the more strategic aspects of your business. Typically, we can save you 50%-80% of the cost of traditional client server platforms.

Managed Applications / Software Hosting
CompLogic gives you on-demand access to the latest business applications so you don't need to purchase and maintain expensive software packages yourself. We can provide you with the applications and support services you need to conduct your business. Our hosted applications will substantially increase your ability to focus on your core business functions, rather than on application procurement, upgrading and administration.

CompLogic has expertise in all major software products. This includes Microsoft, Adobe, QuickBooks, and other mainstream business applications. We handle all licensing and updating requirements for these packages.

We are also subject matter experts in Mirth and HL7 Medical Records Administration (Mirth Certified), supporting numerous transfer protocols, data formats and standards used across the healthcare industry. Based on Mirth's commercial open source model, you get the benefits of an enterprise-class quality product and support services, without the high fees.

Services include:

Adobe (all applications)


Microsoft Windows Operating Systems


Microsoft Productivity Packages


QuickBooks


Document Management Systems


Electronic Medical Record Applications


HL7 Interface & HL7 Transformation Services


Property Management Systems


Ticketing Systems


Customer Relationship Management (CRM) Systems

Development and Consulting Services
No two businesses are exactly the same, and neither can be the technology or applications for them. Technology is advantageous only if it helps businesses to improve, grow or sustain. Our team of experts will deliver your application development and technology needs faster, more productively, and at a higher value to meet your business goals. We are not just a bunch of "techies", but a group of talented individuals with deep understanding of technology and its capabilities, who can advise you on how technology can be used to gain maximum business value.

Services include:

Application Development


Tablet Application Development


Graphic Design, Brochures, Branding, etc.


Website Development

CompLogic provides a comprehensive array of Business Solutions, including Managed IT Services, Managed Applications, Web and Systems Consulting. We are your one-stop Technology Company.